What is SiteBar?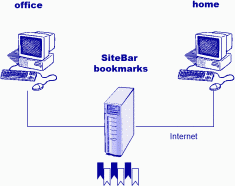 SiteBar is a solution for people who use multiple browsers or computers and want to have their bookmarks available from anywhere without need to synchronize them or take them along. The bookmarks are stored on a server - this could be:
a SiteBar server run by its authors (you don't need to install SiteBar software - just sign up our service);
another public server running our SiteBar software;
your own server running our free SiteBar software.
Integration with Many Browsers
The bookmarks are displayable/modifiable in almost any standards compliant browser. SiteBar is a ready to use Internet Explorer Favorites Manager, Firefox Bookmark Manager, Mozilla Bookmark Manager, Opera Bookmark Manager and more ...
Bookmark Import and Bookmark Export
for Mozilla Firefox, Microsoft Internet Explorer, Mozilla/Netscape, Opera, XBEL, RSS, Atom, OPML, RDF, ...
Bookmark News and Bookmark Feeds
Any bookmark folder can be turned to a feed in plethora of formats. Link news can be shown for each folder; using RSS feeds you can monitor what bookmarks have been added to certain SiteBar folders or to the whole SiteBar installation.
Bookmark Access Control
SiteBar allows you keeping links private (the default) while giving you possibility to grant access to your bookmarks to selected user groups or to everyone. You can maintain your personal, family, team, company or enterprise-wide bookmarks with flexible access rules, permissions and customizable design!
SiteBar offers email verification and administrator approval.
Feature-Rich User Interface
SiteBar is available in more than 20 languages, supports skins (CSS+XSLT), plugins, drag&drop, custom sorting, directory mode, folder hiding and hit counting.
A Lot of Other Features
Link validation, favicon harvesting and unique favicon cache, ...
In order to provide reliable and affordable SiteBar server for the public, we have moved SiteBar.org from SourceForge.net to a paid hosting on TeamForge.net. We are glad to introduce a premium online bookmark manager offering the full functionality of SiteBar, incl. bookmark import, bookmark export, bookmark sharing, favicon cache, link validation, email features and secure bookmarks online access (SSL). This easy to use bookmark organizer offers an excellent option to bookmark synchronization.
Run Your Own Online Bookmarks Server
Although SiteBar offers professional services, we still encourage people to use their own installation. If you like to twiddle with open source software and your server meets all requirements for SiteBar installation, then you are welcome to download SiteBar host it yourself on standard or cloud server hosting. It gives you full power over your installation and does not make you dependent on anybody else. Bookmarks could easily become vitally important and you should pay attention whom do you give access to them.
And if there is a little paranoia inside of you, then you must know that you would have to run your own server with SSL access to prevent others seeing your bookmarks. We can offer you to use our server and SSL access with trusted certificate. If you trust us, you will not need to trust all the servers on the route between your SiteBar server and your browser.